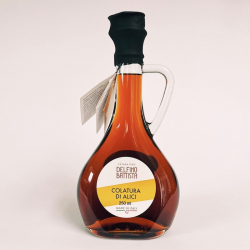  
Colatura di Alici - Colature of Anchovies from Cetara Delfino Battista 250 ml
This colature or anchovy coulis is a specialty produced by the Delfino company located in Cetara on the Amalfi Coast in Campania.
This amber product is similar to ancient garum which was used by the Romans and Greeks.
They remove the head and viscera from freshly caught anchovies. The anchovies remain for 24 hours in containers filled with sea salt.
Then they are stored alternating layers of salt and anchovies in small oak or chestnut barrels. Manual and laborious work.
The barrels are covered by a wooden disc on which weight is placed.
The liquid that forms on the surface is kept in a glass container. This liquid is exposed to the sun to remove water and increase its concentration.
After about 5 months this liquid is poured over the surface of the anchovies to start a process of slow pouring hence the name "colatura" between the different layers of fish.
A small hole is pierced at the bottom of the barrel to recover the concentration of juice filtered through linen cloths.
It takes about 30 kilos of anchovies to produce 1 liter of colature.
It is a natural product without preservatives.
Rich in vitamin A, this little marvel will spice up your various preparations.
Content: 250ml
Fishing area: FA0 37.1.3
DDM*: 01/2024
Security policy
SSL secure site
Delivery policy
Free shipping from €110 in Belgium.
The Delfino Battista company located in Cetara in the province of Salerno has been offering typical products from this area since 1950, such as anchovy colatura, anchovy fillets in oil, tuna in oil, bottarga (bottarga) of tuna, etc. .
To succeed in offering these exceptional products, they use ancient working methods. This craftsmanship offers us true authenticity and quality.
We suggest you taste this coulis to prepare spaghetti with olive oil, garlic and parsley or to replace salt in certain broccoli or potato preparations.
Store in a cool, dry place.
If you need any preparation advice, we are here to serve you.
Data sheet
Region

Campania

Producer

Delfino Battista

Ingredients

Salted anchovy extract, salt.

Allergens

Contains fish juice.

Format

250 ml
Customers who bought this product also bought:
No customer reviews for the moment.
16 other products in the same category: